It is a unique soundproofing system that allows you to build modular spaces, quickly removable and acoustically professional

.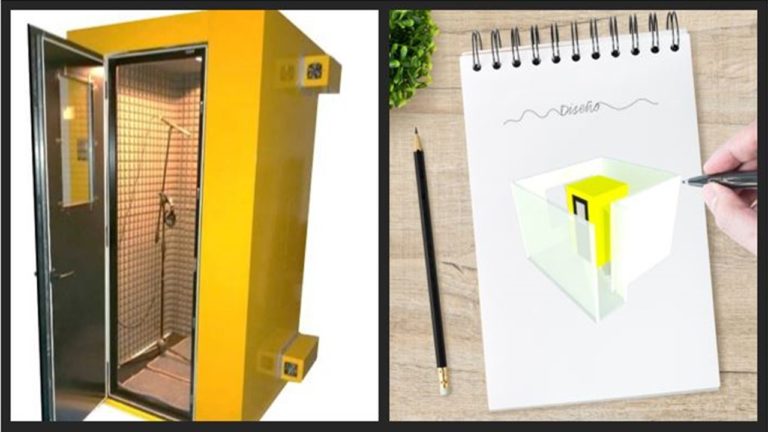 It is a unique soundproofing system that allows you to build modular spaces, quickly removable and acoustically professional, without tools, complex installation processes or civil works.
The Mobile Wall system helps you solve noise problems, creating soundproof spaces that can be portable, without complex technical operations, giving you excellent results in terms of sound quality indoors and surprising soundproofing results outdoors (acoustic insulation).
Mobile Wall are patented panels that when assembled (LEGO® type) allow to build soundproof spaces of different sizes and applications, you can disassemble, transport them easily and reassemble them again without the use of tools.
The spaces obtained – cabin type – will provide you with areas that prevent noise pollution from and to the outside, which you can use as: soundproof places for students of musical instruments, recording or editing studios, home studios, radio stations, dubbing rooms, voice over, wework, speech therapy booths and other applications such as acoustic insulation of machinery.
For you who are passionate about musical activities! For audiovisual producers, announcers, instrumentalists, students or professionals in areas of knowledge where sound (or its absence) is a fundamental component, for those who need to have a space to achieve high-quality live sounds, or without noise pollution (noise isolator).
Our booths were born out of the need for soundproofing for music creation processes, since we are an interdisciplinary team of musicians with alternate professions, which have served to strengthen the design of this solution, based on our experience as a team, for this reason , we offer you a solution that adapts to your space and budget, which gives you practicality and professional results.
Mobile Wall soundproof panel systems are characterized by sound insulation with optimum attenuation. They are portable, have electrical connections according to your need and are made with environmentally friendly materials.
This type of acoustic panels are unique, their cost is less than other soundproofing systems on the market.
Its portability feature allows you to easily relocate it.
The acoustic measurements show compliance with the provisions of the ISO 717 standard for soundproofing, and the internal acoustic treatment allows sound responses of different configurations, which provides an optimal space for audio captures or sound editing, mixing and mastering processes.
Mobile Wall spaces include a quiet ventilation system (approximately 6dB of noise), designed by our team, allowing you to have a pleasant and comfortable workspace.
This product is configurable according to your needs and preferences, in terms of its dimensions (length, width and height), type and quantity of electrical, communication, audio and video connections, with the possibility of including other types of connections, color door (white, gray, brown or black), incorporation of window (s), internal acoustic conditioning and different options for final finishes, allowing you to have a completely personalized product.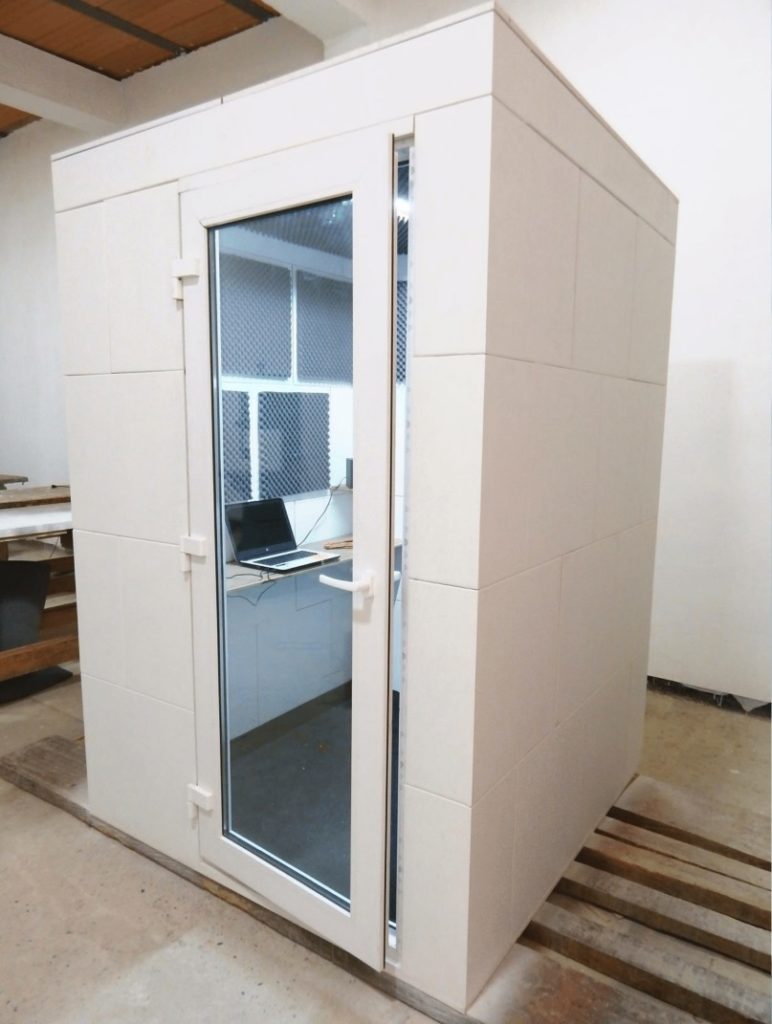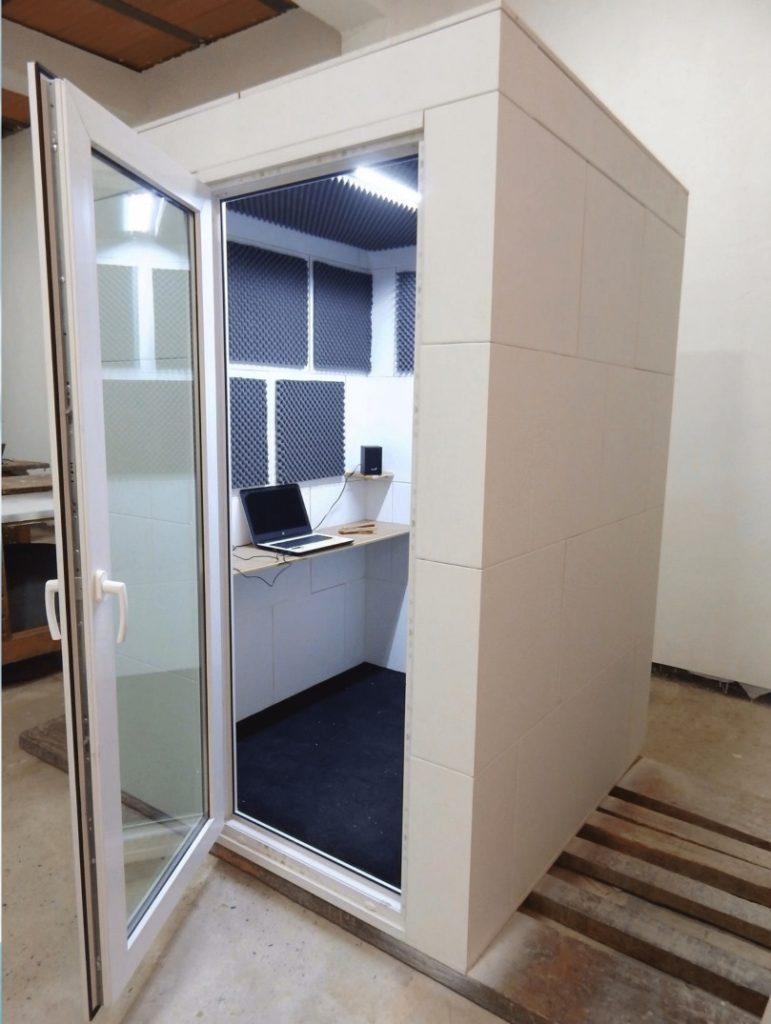 DIMENSIONS: The cabins are built from a base of 1.00 mx 1.00 m (base and bottom according to the space you have available).
ELECTRICAL CONNECTION: Power socket with earth pole, power cable with wall connection, according to the selected series.
LIGHT: 12 volt cold led according to your need.
COMMUNICATION CONNECTIONS: XLR-1/4 connections (monophonic), 1/4 stereo connections for headphones, USB, HDMI, RCA, ETHERNET connections and in general the existing connections on the market as wall chassis.
DOOR: White, gray, brown or black PVC structure with double laminated glass, with recommended measurements of 2.00 m high x 0.70 m wide. Window installation depends on size and selected cab series.
PAINTING: Matte white background on a white catalyst sealer base and a final finish in a combination of up to two colors depending on the design to be agreed (matte or glossy options).
INTERIOR CONDITIONING: 1 in 5 gray die-cut acoustic foam (noise insulation) over approximately 80% of the interior, including internal modules and ceiling. The door does not have a foam covering. You can contemplate the additional installation of bass traps, located in the lower corners or where you require them, according to the result you expect. The foam is removable for easy cleaning.
FLOOR: Floating structure and covered with black automotive class carpet, lower base in insulating foam. The AUDIOLOGY series has a rubber floor that facilitates cleaning and a ramp that allows the passage of a wheelchair.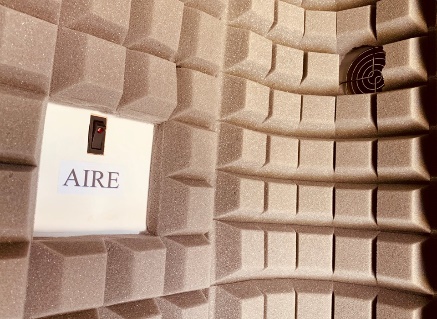 SISTEMA DE VENTILACIÓN: Sistema de aire acondicionado silencioso.
USO: Interior, con movilidad ocasional, el diseño te permite la reubicación. La serie HARD es de tráfico pesado y permite desplazamientos continuos. La serie AUDIOLOGY cuenta con rampa que permite el paso de silla de ruedas.
It is a product designed with our Mobile Wall soundproofing system.
It allows soundproofing equipment such as guitar amplifiers to make clean recordings with microphone and amplifier recording techniques without contamination and high sound quality.
Interior covered in 1-in-5 gray die-cut acoustic foam (noise insulation).
Fully mountable / detachable and easy to transport.